Product Information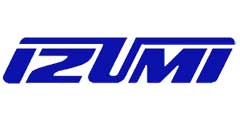 P-100A
The P-100A hydraulic cutter head features: Fast cutting with remote operation. It can be operated by any hydraulic pump with rated oil pressure of 700 bar. Equipped with PT 3/8" threaded Izumi high pressure couplers. PT - NPT adapters are available on request for NPT 3/8" threaded couplers. Blades are easily replacable. Lock pin type cutter head.
Looking for spare parts for this tool? View the spare parts catalogue.
Specification
| | |
| --- | --- |
| MAX INPUT PRESSURE (bar) | 700 |
| OIL VOLUME REQUIRED (cc) | 140 |
| OUTPUT FORCE (Metric Ton) | 7.5 |
| LENGTH (mm) | 590 |
| WEIGHT (kg) | 13.2 |
Notes
Cutting of piano wire is prohibited

Cutting Capacity
Wire Rope 6 x 7: N/A mm
Wire Rope 6 x 12: N/A mm
Wire Rope 6 x 19: N/A mm
Soft Steel Bar: N/A mm
Reinforcing Rod: N/A mm
Cu Strands: 42 mm
AI Strands: 46 mm

ACSR: N/A mm
Guy Wire 1 x 7: N/A mm
Guy Wire 1 x 19: N/A mm
CCP Cable: 100 mm
Electric Cable: N/A mm
AI or Cu Rod: N/A mm
Re-Bar: N/A mm

Accessories
Carrying Bag
Downloads
Make an Enquiry
For more information on the P-100A, or to make a purchase please contact us
Customer Comments
I needed spares for my hydraulic tools and was very happy with the service Izumi provided. Thanks again.
Mr. C. Johnson