Product Information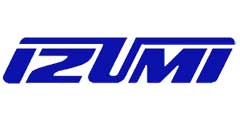 Izumi Six Series SL-NDM
The SL-NDM was developed for a more robust, higher-quality, REC-style In-line tool. The SL series are designed to increase durability. The SL-NDM has a choice of jaw types, the SL-6CJ Jaw for crimping. For cutting, switch to the SL-CH and SL-ACSR Cutter Attachments. the pull-pin design allows ease and quick change between head types. LED light illuminating dark areas. The SL-6CJ Jaw accommodates 6 ton U-type dies for applying compression fittings to copper, aluminum, and ACSR conductors widely used in the industry.
Specification
| | |
| --- | --- |
| SIZE | 421(L) X 95(H) X 70(W)mm |
| WEIGHT | 4.2 |
| RAM STROKE | 21 |
| MOTOR | 14.4 |
| RESERVOIR CAPACITY | 45 |
| FORCE AT DIE FACE | 70 |
| OUTPUT FORCE | 70 |
Notes
Battery operated tool with In-lIme design * Inter chargeable cutting and Crimping Jaws * LED light for low light work * Light weight slim design Optional attachments SOLD SEPARATELY. SL-6CJ Crimping Jaw Specification: Crimping capacity : Up to 240 mmSQ (Cu/Al) Up to 185 mmSQ (ACSR) SL-CH Cu/Al Cutter Attachment Specification: Crimping capacity Up to 300 mmSQ Cu Up to 240 mmSQ Al SL-ACSR Cutter Attachment Specification: Crimping capacity Up to O.D
20 mm single steel core ACSR use only

Accessories
Shoulder strap, Steel carrying case, Battery and Charger SOLD SEPARATELY
Make an Enquiry
For more information on the Izumi Six Series SL-NDM, or to make a purchase please contact us
Customer Comments
I needed spares for my hydraulic tools and was very happy with the service Izumi provided. Thanks again.
Mr. C. Johnson