Product Information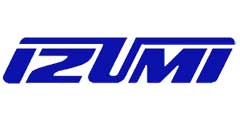 Izumi Six Series REC-651F
Accepts Beku type dies widely used in European countries Applicable range : up to 150mmSQ Cu connectors (Approx. 20mm across vertex of hexagon).The REC-651F accepts BEKU type dies widely used in European countries. Light weight and slim design is ideal for close quarter application such as connection in the switch box. Also easy latch type closed head provides easy insertion and removal of connectors. Electronic circuit board with LED indicates compression status and battery capacity. The REC-651F has electronic memory function to read number of compression cycles that tool has made. The number of crimps per charge for 150mmSQ terminal : 67 crimps / BP-70MH
Specification
| | |
| --- | --- |
| SIZE | 255(L) X 355(H)X 79(W)mm |
| WEIGHT | 2.9kg |
| RAM STROKE | 16 |
| MOTOR | 14.4VDC |
| RESERVOIR CAPACITY | 78cc |
| FORCE AT DIE FACE | 52kN |
Notes
Dies are sold separately
Specify the manufacturer's die and connector numbers
Specify charger input voltage. * Battery operated compression tool * Latch type H framed tool head * Light weight and slim design * Pistol type, well balanced design * 14.4VDC powerful motor * Right or left handed operation * Accepts Beku type dies * 180 degree swivel head * Optional DC charger * Quality backed by ISO 9001 * Rapid advance * non-slip soft grip * LED light for dark working site

Accessories
Shoulder strap, Double moulded carrying case, Batteries and Chargers are sold separately.
Make an Enquiry
For more information on the Izumi Six Series REC-651F, or to make a purchase please contact us
Customer Comments
I needed spares for my hydraulic tools and was very happy with the service Izumi provided. Thanks again.
Mr. C. Johnson