Product Information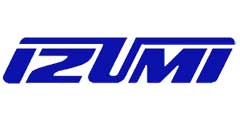 Izumi Six Series REC-6200MX
Non-insulated terminals: 14, 22, 38, 60, 70, 80, 100, 150, 200 mm2 Angle beam fabricating attachments and many other attachments
Specification
| | |
| --- | --- |
| OUTPUT VOLTAGE | 14.4 |
| TYPE | 14.4V |
| SIZE | 383 (L) x 261 (H) x 79 (W) mm |
| WEIGHT | 5 |
| RAM STROKE | 22 |
| FORCE AT DIE FACE | 127 |
Notes
The REC-6200MX is a multipurpose battery operated tool suitable for various types of crimping, cutting, punching
Available attachments are 8 kinds and the REC-6200MX comes standard with rotary type crimping head, 200 mm2 Yoke-nest and indentors suitable for up to 200 mm2 crimping terminals
Attachments are mounted on the tool head by inserting two lock pins located at the cylinder head for easy changeover. The control buttons are activated by only one hand so that other hand is always free to hold working material. Electronic circuit board with LED indicates compression status and battery capacity.

Accessories
Following attachments are available separately. 200AT-13WT Threaded bar cutting attachment. 200AT-S16 Rebar cutting attachment. 200AT-50YC Cable cutting attachment.200AT-16B T connector compression dies. 200AT-HEX Hexagonal compression Dies. 200AT-9PD Knock out punching attachment. 200AT-AP18 Angle beam punching attachment. P-200M multipurpose Hydraulic Head. * Rapid advance * Non-slip soft grip * LED Light for dark working site
Make an Enquiry
For more information on the Izumi Six Series REC-6200MX, or to make a purchase please contact us
Customer Comments
I needed spares for my hydraulic tools and was very happy with the service Izumi provided. Thanks again.
Mr. C. Johnson