Product Information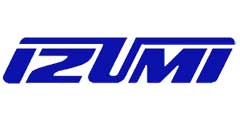 Izumi Six Series REC-CN658
Battery operated compression tool the REC-CN658 now has twin stage rapid ram advance mechanism. All Izumi tools use the same batteries and chargers. No need for a multitude of different batteries and chargers. 24 mm ram stroke extends the compression range to U-E & U-168 Dies. G head design enables easy single handed use. Fully insulated for live line working. Vibration: 8 m/s2 Noise level: 76.7 dB New LED light for night or low light work.
Specification
| | |
| --- | --- |
| SIZE | 409 (L) x 274 (H) x 79 (W) mm |
| WEIGHT | 4 kg |
| RAM STROKE | 24 mm |
| MOTOR | 14.4 VDC |
| RESERVOIR CAPACITY | 78 cc |
| FORCE AT DIE FACE | 54 kN |
Notes
Battery operated hydraulic compression tool. Open G Head design. 24 mm ram stroke. LED lights when battery capacity becomes low. Light weight slim design. Pistol type well balanced design. Either 1 hour or 15 minute charger with refresh function. 2 Ah or 3 Ah batteries. 180 degree fully insulated swivel head. Dies sold separately - Accepts w type dies

Accessories
Batteries and chargers are sold separately.
Downloads
Make an Enquiry
For more information on the Izumi Six Series REC-CN658, or to make a purchase please contact us
Customer Comments
I needed spares for my hydraulic tools and was very happy with the service Izumi provided. Thanks again.
Mr. C. Johnson