Product Information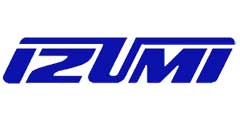 REC-CN558E
The REC-CN558E now has twin stage "rapid" action. 24mm ram stroke extends the compression range to . G head design enables single handed use. Fully Insulated for Live Line working.
Specification
| | |
| --- | --- |
| RAM STROKE (mm) | 24 |
| MOTOR (VDC) | 14.4 |
| RESERVOIR CAPACITY (cc) | 100 |
| FORCE AT DIE FACE (Metric Ton) | 54 |
| LENGTH (mm) | 360 |
| HEIGHT (mm) | 250 |
| WIDTH (mm) | 75 |
| WEIGHT (kg less battery) | 4 |
Notes
Dies are sold separately
Accepts Burndy W and Kearney O type dies
U-E & U-168 Dies are available for extra comperssion range
Specify input voltage
Battery operated compression tool with fully insulated head
1 hour or 15 minute charger for BP-70E, BP-70EI and BP-70MH Batteries
Regular NiCd battery, smart battery or the New Metal Hydride battery.Right or left handed operation
Light weight slimand well balanced Pistol type design
Quality backed by ISO9001

Accessories
REC-CN558E is supplied with PVC carry case and shoulder strap. Batteries and Chargers are sold separately - View our Battery and Charger page for options.
Make an Enquiry
For more information on the REC-CN558E, or to make a purchase please contact us
Customer Comments
I needed spares for my hydraulic tools and was very happy with the service Izumi provided. Thanks again.
Mr. C. Johnson