Product Information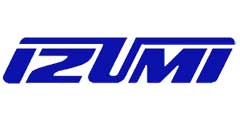 REC-H130
The REC-H130 is a battery operated 12 ton class compression tool to accommodate 12 ton U-type dies and dies for deep indent crimps widely used in the industry. This H head tool makes it easier to access tight cable joints particularly in the control box. New rapid advanced hydraulic mechanism is incorporated in the Four Thousand series pistol type tools and a built-in, preset bypass cartridge will kick out when the output reaches 120kN. The trigger switch and return button are activated by only one hand so that the other hand is always free to hold working material. The number of crimps per charge for maximum conductor size: 60 crimps/BP-70MH. This tool was designed to accommodate shell type dies for applying compression fittings to copper, aluminum and ACSR conductors.
Specification
| | |
| --- | --- |
| RAM STROKE (mm) | 28 |
| MOTOR (VDC) | 14.4 |
| RESERVOIR CAPACITY (cc) | 100 |
| FORCE AT DIE FACE (Metric Ton) | 12.2 |
| LENGTH (mm) | 402 |
| HEIGHT (mm) | 256 |
| WIDTH (mm) | 78 |
| WEIGHT (kg less battery) | 5.6 |
Notes
Dies are sold separately, specify the manufacturer's die and connector numbers
Specify charger input voltage
Battery operated pistol type compression tool
Rapid ram advance mechanism
Well balanced design
25mm Jaw opening H head
Right or left handed operation
Accepts all dies used for Alcoa, Burndy, T&B, Klauke, Cembre and Blackburn 12 ton compressors as well as dies for deep indent crimps
350 degree swivel head
Optional DC charger
Quality backed by ISO9001

Accessories
Shoulder strap, Double molded carrying case Battery pack and chargers are sold separately
Make an Enquiry
For more information on the REC-H130, or to make a purchase please contact us
Customer Comments
I needed spares for my hydraulic tools and was very happy with the service Izumi provided. Thanks again.
Mr. C. Johnson